Zoey and Alli are under the sheets, Marley walks around on the bed. Alli refers to Zoey as Emperor Palpatine and Charles says Marley is in "Brat Mode." Both of then hum The Imperial March to Zoey. thumb|250px|right|Fan Made Hitler Remix about Charles/CTFxC Charles tells the audience about a fan made Hitler remix video made to looks as if the fuhrer is talking about Charles and Alli while referencing many common occurrences in the Vloggity Vlogs.
Alli and Charles quickly discuss how Charles talks nonsense sometimes, making mistakes in saying expressions; specifically imitating Miss South Carolina.
Charles explains that he's waiting for Rooms to Go to deliver a replacement couch, as theirs is seemingly defective. It's suppose to be delivered within a 7 hour window during the day.
Zoey blocks a shot of the new food bowls received from a fan a few days ago.
The furniture place calls, they're going to be late. Charles is also doing more live video on ustream.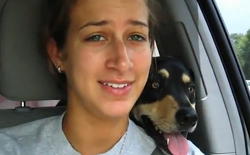 Finally caught on video,
Zoey
resting her head on
Alli's
shoulder while she's driving.
Charles shows his side of ustreaming. The Ustream twitter page also helped promote him to the #1 trending topic. Over 6000 people checked in to watch the live stream which lasted over 2 hours.
The RC helicopter bought in New York is brought out to see how the dogs react. It keeps breaking apart when it runs into something but the dogs watch it excitedly and start barking at the copter. Charles cuts the flying short because it's too late for the dogs to be barking that much.
EPIC FAIL by Rooms to Go, they didn't show up until 10pm. A short time lapse is shown of the couch swap process. The dogs come in afterwords unable to notice any change in the room. Alli tests the new couch.
Charles and Alli are at Blockbuster again. Charles wants to get Knowing but Alli doesn't because she hates Nicolas Cage. Alli wants to get Confessions of a Shopaholic but only because she likes Isla Fisher, she thinks the movie looks 'really stupid'.
thumb|250px|right|Online Booty Call Commercial Charles points out a TV commercial for onlinebootycall.com, it's stupid because how cheaky it is and Charles regrets documenting it on video.
Zoey violates the rules of seat check and takes Charles spot on the couch, pillow, and eventually Alli too.